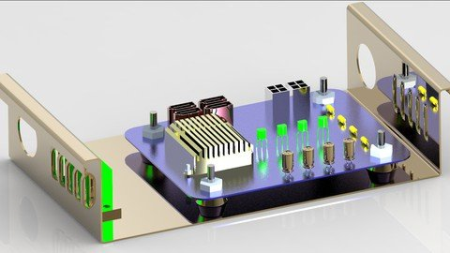 Genre: eLearning | MP4 | Video: h264, 1280×720 | Audio: aac, 48000 Hz
Language: English | VTT | Size: 11.9 GB | Duration: 21h 24m
Learn the Design process i.

What you'll learn
e., Modelling, Assembling and Drafting
Learn all the significant technical tools in Sheet-Metal Modelling
Learn to prepare Assembly of the Industrial components,
Learn to Prepare Technical Drawing of the Modelled geometries
Learn to create your own Drawing Sheet Format and Template
Requirements
A computer/Laptop for working along with the Instructor.
No technical requirements.
Description
The objective of this course is to enhance your product designing skills.
The curriculum is especially oriented to make you understand the concepts with ease, and reduce your fear to work with the complicated tools of product designing.
The course offers you hours and hours of HD content that can be accessed from your mobile/laptop/desktop.
Sign up now, and access the world's best course on Sheet-Metal, Assembly and Drafting using CREO PARAMETRIC.
Through the course, you will be familiarized will the following significant tools:
Sheet Metal
· Introduction to various Sheet-metal concepts
· Creating Primary and Secondary Walls using different tool such as Planar, Flat, Flange, Extrude.
· Types of Walls
· Reliefs, Its necessity, & types.
· Corner reliefs, Corner Treatment, Mitre-cuts.
· Bending Sheet metal in Creo
· Tools used to bend sheet metal.
· Types of bend
· Edge & Planar Bend
· Unbending Sheet metal in Creo
· Different types of unbending options
· Cut-outs in Sheet-metal
· Forms, and its types – Punch, Die, Sketch and Quilt
· Rips, and its types – Edge, Sketch, Surface, and Rip Connect
Assembly
· Bottom-up and Top-Down Approach
· Different constraints in Assembly (Coincident, Distance, Normal, Parallel, Angle offset etc.,)
· Global Interference
· Repeat components
· Create Exploded View in Assembly.
· Add Sub-Assembly in Assembly.
· Detailed design process, i.e., from Part Modelling to Assembly of industrial components namely, "Butterfly Valve, Pedestal bearing and Electrical Cabinet Assembly)
Creo Drawing
· Elements of a Drawing Sheet
· Creation of a Drawing Format (User defined)
· Adding parameters to drawing sheets.
· Create user-defined parameters in title block
· Basic dimensioning
· Lines and line styles used in Dimensioning
· Create Detailed view in drawing sheet
· Visible Area View
· Create Auxiliary View
· Create Revolved View
· Create cross-sectional view of a part model in drawing sheet
· Create cross-sectional view of an assembly in drawing sheet
· Create Local View
· Create Offset View
· Create Exploded view in Drawing sheet
· Creating our own Detailed File.
· Adjusting dimensions using different tools
· Adding tolerances to the dimensions
· Adding Notes in the drawing sheets
· Adding Ordinate Dimensions.
· Adding Surface Finish Symbols
· Preparing Report Table: Bill of Materials (BOM)
· Creating Balloons on the Exploded view
· Create a user-defined template in Creo
The course doesn't not require you to have any prerequisites.
By understanding the conceptual parameters, you can work on your own to explore and prepare your imagination into a virtual 3-D model.
I am looking forward to Teaching you all About the PTC CREO PARAMETRIC
Who this course is for:
Students pursuing Mechanical , Aerospace, Ship, Automobile and other technical courses such as designing/production/manufactoring etc
Any Student who like to enhance their technical skills of conventional part modelling to advanced level geometrical modelling, assembly, and drafting
Students who learnt Creo Parametric Part modelling and wish to extend their knowledge on other modules of Creo
Graduates who like to add a skill in their resume
Working professionals who wish to enlighten their knowledge of Sheetmetal, Assembly and Drafting
DOWNLOAD
uploadgig
https://uploadgig.com/file/download/f43c945e848F7619/HDXSphWV_PTC_Creo_Pa.part01.rar
https://uploadgig.com/file/download/db4f58a6817980b4/HDXSphWV_PTC_Creo_Pa.part02.rar
https://uploadgig.com/file/download/2e84f130187F9665/HDXSphWV_PTC_Creo_Pa.part03.rar
https://uploadgig.com/file/download/A83c54C5d687ca70/HDXSphWV_PTC_Creo_Pa.part04.rar
https://uploadgig.com/file/download/B55f595327357B0F/HDXSphWV_PTC_Creo_Pa.part05.rar
https://uploadgig.com/file/download/783e8fc06aed2846/HDXSphWV_PTC_Creo_Pa.part06.rar
https://uploadgig.com/file/download/d8e20e088e12BC49/HDXSphWV_PTC_Creo_Pa.part07.rar
https://uploadgig.com/file/download/2e7e27EC7c49AC79/HDXSphWV_PTC_Creo_Pa.part08.rar
https://uploadgig.com/file/download/7ec1eA825Cc75d13/HDXSphWV_PTC_Creo_Pa.part09.rar
https://uploadgig.com/file/download/D9470ad5ed54B691/HDXSphWV_PTC_Creo_Pa.part10.rar
https://uploadgig.com/file/download/db7D2e99B9389bfb/HDXSphWV_PTC_Creo_Pa.part11.rar
https://uploadgig.com/file/download/B533f0261b17ccfA/HDXSphWV_PTC_Creo_Pa.part12.rar
rapidgator
https://rapidgator.net/file/03ccd23a03347e93111efedfb16336e1/HDXSphWV_PTC_Creo_Pa.part01.rar.html
https://rapidgator.net/file/b222b1cbcf4706aa182fc23ae8686b57/HDXSphWV_PTC_Creo_Pa.part02.rar.html
https://rapidgator.net/file/34fb3c976d0927c3a8839629745d410b/HDXSphWV_PTC_Creo_Pa.part03.rar.html
https://rapidgator.net/file/d9c03cc34e284ab4ad92b6194a13575f/HDXSphWV_PTC_Creo_Pa.part04.rar.html
https://rapidgator.net/file/33aba4536fbffc4e4974bfb47ae9f6d2/HDXSphWV_PTC_Creo_Pa.part05.rar.html
https://rapidgator.net/file/75560d7113a27527c99733ab6f87a80a/HDXSphWV_PTC_Creo_Pa.part06.rar.html
https://rapidgator.net/file/87e9ea31749ecc953be70dcb8ae32ab3/HDXSphWV_PTC_Creo_Pa.part07.rar.html
https://rapidgator.net/file/a7e3a0537451a61becd31db443ace264/HDXSphWV_PTC_Creo_Pa.part08.rar.html
https://rapidgator.net/file/b07ae1edf8ad8aa1ec0972bb49ec04e0/HDXSphWV_PTC_Creo_Pa.part09.rar.html
https://rapidgator.net/file/990473e85d2762fa762b5eab5e8c36fd/HDXSphWV_PTC_Creo_Pa.part10.rar.html
https://rapidgator.net/file/a2558f1d8e22f36f91469c9add125ba7/HDXSphWV_PTC_Creo_Pa.part11.rar.html
https://rapidgator.net/file/58cc76097de341014395bef7fd9be2a3/HDXSphWV_PTC_Creo_Pa.part12.rar.html
nitroflare
http://nitroflare.com/view/27F4560797E4DEE/HDXSphWV_PTC_Creo_Pa.part01.rar
http://nitroflare.com/view/70C488A6671719D/HDXSphWV_PTC_Creo_Pa.part02.rar
http://nitroflare.com/view/A4417CD63099028/HDXSphWV_PTC_Creo_Pa.part03.rar
http://nitroflare.com/view/C0DFEA9D7CBFE8A/HDXSphWV_PTC_Creo_Pa.part04.rar
http://nitroflare.com/view/E4273C185013557/HDXSphWV_PTC_Creo_Pa.part05.rar
http://nitroflare.com/view/5210EB35E26E90B/HDXSphWV_PTC_Creo_Pa.part06.rar
http://nitroflare.com/view/FDFC661A60AA0E1/HDXSphWV_PTC_Creo_Pa.part07.rar
http://nitroflare.com/view/E0D32A0CD626CE7/HDXSphWV_PTC_Creo_Pa.part08.rar
http://nitroflare.com/view/0D4C35CDDFC9292/HDXSphWV_PTC_Creo_Pa.part09.rar
http://nitroflare.com/view/AF9704C99E22A66/HDXSphWV_PTC_Creo_Pa.part10.rar
http://nitroflare.com/view/7D08E94919B1401/HDXSphWV_PTC_Creo_Pa.part11.rar
http://nitroflare.com/view/A8D04CEB529D02A/HDXSphWV_PTC_Creo_Pa.part12.rar