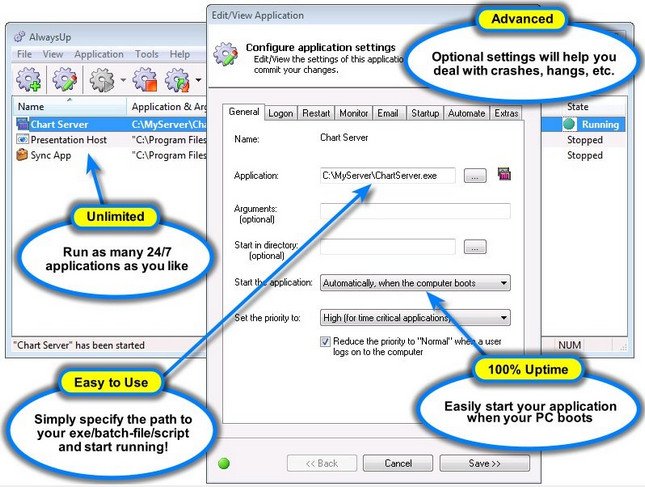 AlwaysUp 12.7.1.53 | File size: 6.5 MB
AlwaysUp runs your executable, batch file, or shortcut as a Windows Service, managing and monitoring it constantly to ensure 100% uptime. It will automatically restart your application if it crashes, hangs, or grows too large, dismiss Application error dialogs, and run customized sanity checks to ensure that your application is available 24/7. Regular, detailed email from AlwaysUp will keep you abreast of crashes, scheduled restarts and other relevant events. AlwaysUp leverages the Windows Services architecture to provide robust, low-level application control in a secure environment. As a Windows Service, your application can start automatically when the computer boots, survive user logons/logoffs, and run entirely without user intervention.
Key Features:
Runs your application (executable, batch file or shortcut) 24×7 as a Windows Service
Very easy to use
Constantly monitors your application and restarts it whenever it fails
Able to detect and restart misbehaving applications that hang, hog the CPU or consume too much memory
Able to start your application as the system boots, to run when no user is logged in and to run despite logon/logoffs all to guarantee uptime without manual user intervention
Able to restart your application (or reboot the computer) at a scheduled time
Able to boost your applications priority to ensure that it gets preferential treatment on the host computer
e-mails you with details of crashes, restarts and other problems
Supports the integration of your own custom sanity check utilities, executed regularly to test if your application is functioning normally or not
Automatically dismisses common Application error dialog boxes that prevent crashed applications from fully exiting
Automatically dismisses Debug dialog boxes and logs the dialog box text for subsequent review by developers — thus facilitating the deployment of applications in Debug mode
The intuitive GUI makes it easy to set up your application, but no GUI is necessary once your application has been configured.
Leverages the Windows Services API to achieve robust, low-level application control in a secure environment
Reports all activities to the Windows Event Log
Very efficient; demands minimal CPU & memory resources
No programming required!
Whats New
12.7.1.53 (January 16 2021) New!
New Features
(None)
Fixes & Improvements
Fixed a misleading warning when setting Dropbox environment variables.
Eliminated a misleading warning about interactive services from the Windows Event Logs.
Improved performance when loading 50+ services.
Improved performance when loading 1000+ records from the Windows event logs.
Homepage
http://anonymz.com/...echnologies.com
https://rapidgator.net/file/9c97ba71bd4aaa197d7064142ed55112/AlwaysUp.12.rar.html

https://uploadgig.com/file/download/ca3Aa7eecAe81df8/AlwaysUp.12.rar
Buy Membership