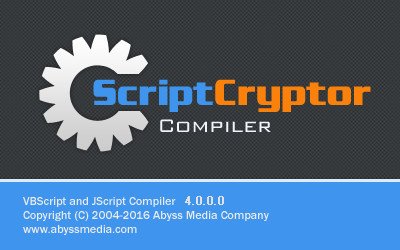 File size: 8.0 MB
ScriptCryptor lets you quickly produce standalone, royalty free applications from your VBS or JS files. VBScript or JScript files will be converted into EXE files, the source of your scripts will be encrypted with Blowfish algorithm. Once converted, they cannot be modified or viewed by other users. ScriptCryptor Compiler also lets you set various resources in the .EXE file, such as its description, the company name, version information and even the application icon. In additional, you may include any files to compiled exe file and use it during execution.

Compile Java or Visual Basic scripts
ScriptCryptor is an application that can help you compile standalone applications from your Java scripts or Visual Basic ones in a seamless manner. You just need to load the appropriate VBS or JS files and the program will convert into an EXE file, while the source of your scripts is encrypted through BLOWFISH.
The main window provides you with a Source section, a Version Info one and an Embedded Files tab, which you can easily navigate between by just clicking them.
Simple interface
Despite its technical purpose, this application comes with a simplistic interface that packs a series of functions that are easy to understand and can be accessed without significant efforts via standard menus or toolbar buttons.
The application also features an Options window where you can adjust general settings or editor-related ones. You can choose between console and windowed script types, 32- or 64-bit binary formats, toggle various compiler options, select your favorite font and enable gutter visibility.
Adjust version details and embed files
As stated earlier, the main window of ScriptCryptor lets you navigate between three tabs. Aside from viewing, creating or editing the source code, you can adjust file information and embedded additional documents.
It is possible to modify the company name, the file description, legal copyrights, comments or product version and attach an application icon, add an Administrator Manifest and include additional files into the resulting EXE.
Lightweight compiler for Visual Basic and Java scripts
All things considered, ScriptCryptor is a lightweight, yet reliable application that can help you compile Visual Basic and Java scripts into standalone applications. It comes with a simple user interface, packs intuitive functions and encompasses a handy configuration menu.
Main Features:
Compile Javascript and VBScript to console or windowed programs (VBS to EXE, JS to EXE)
No temporary file will be created while executing. Unlike the other products, our compiler will execute script from the memory and will never create unprotected files in the TEMP folder.
Command-line compilation
Saves the project settings within the script as a comment block.
Script obfuscation: hides and protects sources of a script from viewing.
Highlight command's syntaxis inside built-in editor.
All additional files required by your script may be embedded into EXE file.
Allows you to use your own Icon and Version Info for compiled files.
Built-in WScript object. You not need to modify your script and can use standard WScript.echo, WScript.Arguments, e.t.c.
Script become independent Win32 executable, without relying on "cscript.exe" or "wscript.exe"
Royalty Free. You can create unlimited products without having to pay royalties.
Lifetime free upgrades.
-:
DOWNLOAD FROM
LINKS
:-
NitroFlare
https://nitroflare.com/view/1C2F82615D18047/scriptcryptor4.3.rar
RapidGator
https://rapidgator.net/file/340340560f63e17179dfaae1e056ba1e/scriptcryptor4.3.rar.html
Buy Membership